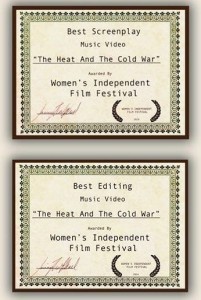 Op het Women's Independent Film Festival in Los Angeles heeft The Heat And The Cold War  twee awards gewonnen in de categorie Music Video. Het gaat om de awards voor Best Screenplay en Best Editing.  Eind 2013 nam Glossy Jesus onder regie van de Franse cineaste Julie Périon een videoclip op in de Leidse binnenstad. Onder andere werd er gefilmd bij Sportpark Trigon, De Hooglandse Kerkgracht, de Pieterswijk en de bustunnel bij Leiden CS. De video ging in première op het Leids Internationaal Film Festival in Trianon, op 3 november 2013.
De leden van Glossy Jesus, Tiuri van der Drift, Maarten van den Hoonaard, Xavier Baudet en Maarten Stuifbergen feliciteren hun regisseuse Julie Périon en editor Ale Pieter Terpstra met het behaalde resultaat.
The Heat And The Cold War kunt u hier zien.